Giant Voices, Inc. (Giant Voices) is pleased to welcome Natalie Anderson to the team as vendor relations specialist.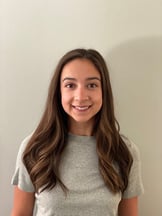 Natalie previously interned with Giant Voices from 2019-2020, and graduated from the University of Minnesota - Duluth in 2020 with a bachelor's degree in communications. She joins the team with a well-rounded understanding of Giant Voices' values, a passion for marketing and a go-getter attitude, making her an ideal fit for the position.

"Natalie has positive energy, excellent communication skills and a strong work ethic that will serve her well as our vendor relation specialist," said Jena Mertz, Giant Voices Partner and Director of Operations. "Natalie is also well-versed with many of our Giant Clients from her previous internship and has a firm grasp on the creative and strategic needs of our business. We are thrilled to welcome her back to the team."

No stranger to the fast-paced agency environment, Natalie is excited and well-prepared to dive into her new role. She'll be responsible for coordinating Giant Client projects with a wide variety of vendors and assisting with administrative duties as needed.

"Working as an intern at Giant Voices didn't feel like work; I loved being here, and that's what I wanted when pursuing a career," said Natalie. "There's a quote that states, 'enjoy what you do and you won't work a day in your life,' and that's exactly what I found during my internship with Giant Voices, so I'm looking forward to being here as an employee. I'm also excited to work with different media vendors and advertising requests to ensure our Giant Clients can get the very best opportunities."

When she's not embracing her new role, Natalie enjoys walking her dog, golfing, skiing and snowshoeing. Welcome back to the team, Natalie!