Duluth, MN: Giant Voices, Inc. (Giant Voices) is thrilled to have Thomas LaRose on board as our Giant intern! Get to know Thomas in this week's employee spotlight.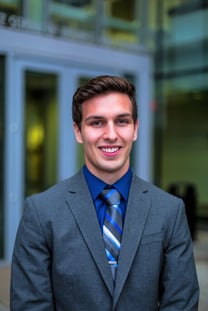 Hello, my name is Thomas LaRose. I was an intern at Giant Voices last year and was hired back this fall to help with various marketing projects and tasks. I am in my last semester at the University of Minnesota - Duluth and will be graduating (hopefully!) with a double major in marketing and entrepreneurship. I'm excited to be back with Giant Voices and can't wait to apply what I've learned in my new classes to a real-world agency.
Where are you going to school?
The University of Minnesota Duluth (go Bulldogs!).

What's your major?
I'm a double major in marketing and entrepreneurship.
When do you graduate?
I will be graduating in December.

What's your favorite class?
For a few reasons, my favorite class this semester has been sports marketing. First, because it's really cool to work with different sports teams and market their games. Second, the class is structured around making a marketing plan for a UMD athletics game - which has been great because it benefits the students in our business programs and our school as a whole.


What interests you most about marketing?
When I was deciding a major, I knew I wanted to do something business-related. I thought marketing would be a good fit because I enjoy working with people much more than working with numbers! With marketing you have the opportunity to work with different people on different teams, or, especially if you work at an agency, you have the opportunity to work with a variety of clients. I like that no two days are ever the same and there's always something new to learn.

What's something most people don't know about?
I ran Grandma's Marathon in 2016 with no marathon training. I ran track and cross country in high school and some of my friends wanted to run a marathon as a sort of celebration after graduating. I thought that was crazy and said "no way," but then one of my friends injured his foot and couldn't run and asked me to run in his place. I decided to go for it and I was able to finish the race in under 5 hours with my longest previous run being just 12 miles.

What are your hobbies?
I love doing anything outside. I really enjoy running, biking, frisbee golf, paddleboarding, kayaking, canoeing, climbing and camping.