At Giant Voices we strive for excellence. One way we do that is by providing Internships. Our interns are good for more than just photocopying and grabbing coffee, they provide a learning experience for both the Giants and themselves. Internships provide real-world experience while assisting a company with projects, insights and feedback on how to manage an even better program for the following year. We are excited to have two ambitious women with us this summer. Our interns are busy working on projects, assisting Account Executives and experiencing the ins and outs of a strategic marketing firm.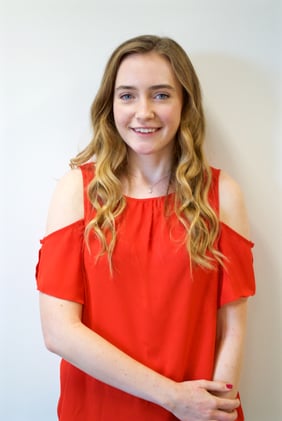 Meet our lovely Giant Intern, Mariah. She assists our Account Executives with projects ranging from marketing research to social media management. Mariah has been an excellent addition to our team this summer.
Hometown: Winchester, NY

College: University of Notre Dame

Major/Minor: Business, Political Science

Graduation Year: 2020

Hobbies: Running, cooking, reading.

Describe yourself in three words.
Energetic, passionate, inquisitive.

What have you enjoyed about Duluth this summer?
The natural beauty of Duluth is amazing. I never get tired of seeing Lake Superior every day on my way to and from the office.

Why did you apply for an internship with Giant Voices?
I sought out Giant Voices for a summer internship because I wanted to learn about the work that goes into the successful campaigns they create, especially through the Vision Sharing™ sessions with clients.Teamwork is fantastic at Giant Voices and it has been great to work with and learn from highly creative and talented people.

What do you like the most about your internship at Giant Voices?
The best experience at Giant Voices has been becoming a part of the team. It is inspiring to work with creative and talented people who educate and encourage me to take an active role in working on campaigns and are so willing to pass along their expertise and offer guidance.

What is your favorite marketing/advertising campaign and why?
My favorite advertising campaign by Giant Voices is the TXT4LIFE campaign, which offers personal and confidential help via text message for those experiencing a crisis. I think it so aptly reaches out to teens and is an accessible resource for residents of Minnesota to help prevent suicide.

What makes you ambitious?
I am ambitious because I love to work with a team and accomplish goals collaboratively. I think developing creative strategies within a team is one of the most exciting parts of the work here at Giant Voices.