At Giant Voices we strive for excellence. One way we do that is by providing Internships. Interns are good for more than just photocopying and grabbing coffee, they provide a learning experience for both their employer and themselves. Internships provide real-world experience while assisting your company with projects, insights, and feedback on how to manage an even better program for the following year. We are excited to have three ambitious individuals who are here throughout the summer. Our interns are busy working on projects, assisting account executives, and experiencing the marketing world first hand.

One of our interns, Matt, is currently assisting our promotional product company,
Gizmoz Promotional Products. Matt has been a tremendous support to the
Gizmoz Gals and Giant Voices team.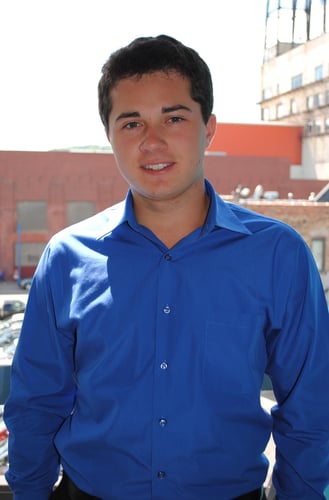 Meet Our Intern: Matt
Hometown: Hermantown, Minnesota
College: University of Minnesota Duluth
(Go Bulldogs!)
Major: Undecided
Graduation Year: 2018
Hobbies: Snow ski racing, hunting, fishing and spending time with family

More about Matt
Describe yourself in three words.
Ambitious. Intelligent. Outdoorsy.

When not working at Giant Voices,
what do you like to do?
Working at my other job and spending
time outside.


Why did you apply for an internship with Giant Voices?
I am interning at Giant Voices to gain real-life experience in the marketing world and find out if this is an area I would like to pursue once I graduate.

What project are you currently working on?
I am currently working on customer presentations for promotional product orders, sales and client meetings while representing Gizmoz Promotional Products at events. I am also shadowing the Giant Voices account management team.

What do you like most about your internship at Giant Voices?
I enjoy sitting in on brainstorming sessions and joining Account Executives during client meetings and pitches. I also like preparing client presentations regarding promotional product orders.

What makes you ambitious?
I want to gain experience early on in my college career, most college students ignore internship and networking opportunities. This experience will help me build a professional career.

Tell us a fun fact about yourself.
I recently went Over the Edge in Downtown Duluth. We rappelled down a nine-story building in support of the Duluth Area Family YMCA, it was awesome! Also, I used to do a lot of competitive skiing in Colorado. You could say the Rocky Mountains are my second home.

Are you an ambitious and driven individual looking for real-world experience?
Click the button below to send us your cover letter and resume.