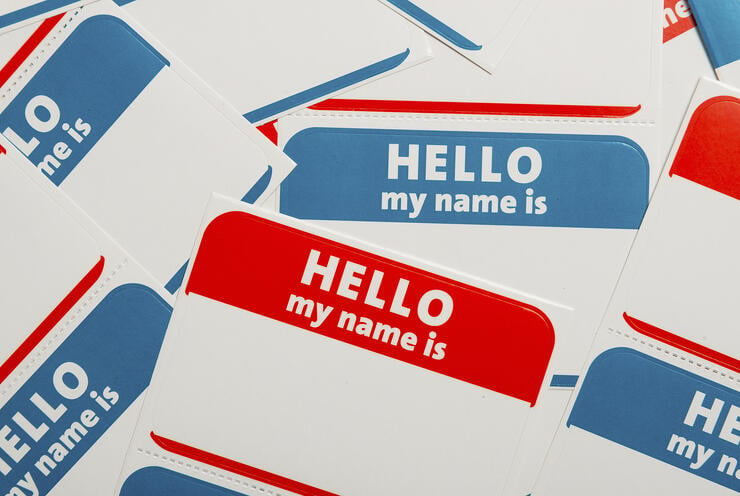 What's in a name? Everything.
Week Three of our flagship course, Giant Academy, covers creating and managing powerful brands. Whether you need to name a new brand, blog or business,
your name is often the first thing about your venture that a potential
customer encounters.
Do you think Virgin would be as successful as it is today if founder Richard Branson had gone with one of his other potential names for his original enterprise:
"Slipped Discs"?
Okay, okay, he would have changed it at some point. The point still stands, though.
The right name can instantly up your credibility, shape your image, multiply your visibility, set you apart and stay with you as you grow your business empire.
A name can make or break you. No pressure.
A powerful example of the power of names comes from a cupcake shop in Lynchburg, Virginia.
After six years, Taste Selects Confectionary was still struggling. In stepped Virginia creative shop Works Progress. After getting to know the owner and the market, they brewed up a name and complementary visual identity that conveyed the owner's personality – and transformed the shop's identity and future.
Originally named Taste Selects Confectionary, the shop became Sassafrost: A Cupcakery.
After the change, business soared. (The owner later closed the shop for personal reasons, but it's still a great example.)
Coming up with the right name isn't easy. Follow these ten commandments to find a name that says what you need it to say.

Ten Commandments of Naming Your New Business, Brand or Blog
1. Know thyself.
What's your business, brand or blog like? What personality do you want it to have? Is your audience young or older? Is your geographic location one of your selling points? (If so, you may want to reference local geography in your name.) You need to know your endeavor, its audience and your goals well before you can concoct an effective name. Interested in learning more about branding? Check out our blog post Five Tips to Creating a GIANT Brand.
What about your competitors' names do you love? Hate? What works (or doesn't) about them?

3. Thou shalt gather examples.
Collect names and words you love (and hate!). The deeper the understanding you have of your own preferences, the easier it will be to create a name that lights you up.

4. Thou shalt not follow trends blindly.
There are so many blogs and businesses named "[Noun] & [Noun]" it's not even funny.

5. Know thy industry.
What are the naming conventions in your industry? Do names tend to be literal or symbolic? Cheeky or Very Serious? It's okay to violate convention to stand out, but you should only do so on purpose.

6. Thou shalt take thy time.
Give naming your endeavor the respect, the time and the mental space it deserves.

7. Know thy name structure.
Does the name need to include a word or tag – say, to indicate the kind of business it is? Most lodging establishments, for example, will have a name that includes a word like "hotel," "motel" or "lodge" for SEO and general clarity. Clothing brands, on the other hand, can get away with names that evoke rather than tell.

8. Know thy name needs.
What else (if anything) does your name need to convey? Not only in terms of concrete information but in terms of associations. A law firm, for example, will probably want a name with a certain staid timelessness rather than whimsy and quirkiness.

9. Thou shalt not use another's name.
Before you go too far down the naming path, check your leading contenders for existing businesses and trademarks. Don't fall in love until you've checked federal and state business registries.

10. Thou shalt claim thy username.
As soon as you've chosen a name, grab the URL (many entrepreneurs will not choose a name if the URL is unavailable), and usernames on Twitter, Facebook, YouTube, Pinterest, and sites used in your industry.

Want to learn how to create and manage an effective brand?
Click the button below to become a marketing mastermind today!