We're celebrating ten years in business this month, and to mark this milestone we're taking a bit of a walk down memory lane. Read on for some of our favorite Giant memories from the past decade.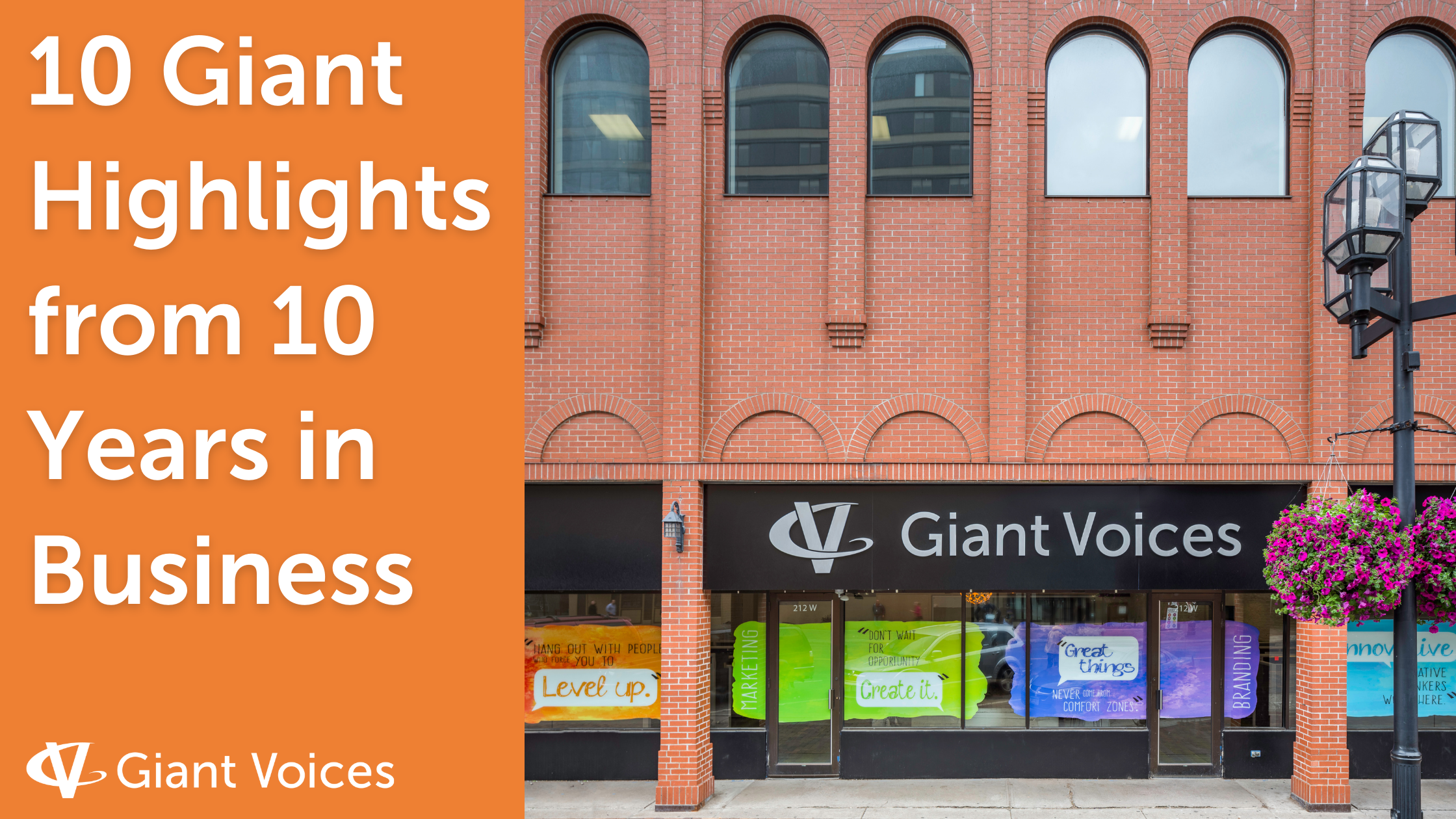 2012 - A Giant Rebrand
Giant Voices evolved from The JPG Group—a marketing and advertising firm founded in the mid-80s in Virginia, Minnesota.

Pascha Apter joined The JPG group as an account executive in 2005, became a minority partner in 2008 and purchased and rebranded the company in 2012, making her one of the first women to wholly own a marketing firm in northern Minnesota.

As a single mother to two young children at the time, Pascha's decision to become an entrepreneur in a fast-paced industry was a huge risk with a huge payoff, not just for herself, but for every Giant along the way.

Pascha and her small team of Giants officed out of a charming space in Canal Park, taking Duluth by storm!
2013 - Lisa Bodine Becomes Giant President
When Pascha founded Giant Voices, she knew she needed a partner—someone to help share the heavy load of business ownership and provide the yin to her yang.

Pascha had worked alongside Lisa Bodine on several regional initiatives through the Duluth Area Chamber of Commerce and while Lisa worked for Involta and the Area Partnership for Economic Expansion (APEX).

When Pascha approached her with an opportunity to become president and partner of Giant Voices, Lisa immediately agreed—and the rest is history.

Lisa's sales and business development expertise and deep network of industry relationships have been invaluable to Giant Voices for the past decade, setting a trajectory for rapid growth.
2014 - Visit Cook County Goes Giant
2014 was a year full of new client acquisition success stories. One of our favorites is being awarded a contract with Visit Cook County, a relationship that continues to thrive today!

"We are personally invested in the success of all stakeholders in Cook County, Minnesota," said Pascha.

We are incredibly proud of the award-winning work and record-breaking accomplishments we have made alongside the VCC team of marketing experts.
2015 - The Giant Creative Team Expands!
After three years in business, 2015 required what was effectively a hiring explosion at Giant Voices.

Most notable was the hiring of Cory Southerton, Ryan Tessmer and Sally Carlson—three of our incredible creative team members who proudly work at Giant Voices still today.

Cory was only 19 when we joined Giant Voices, and it felt like forever before he could officially join one of our many agency happy hours.
2016 - Pascha and Lisa Travel to Africa!
Business experts always caution that owners should never travel together—what if something happened? Would the company survive?

When Pascha and Lisa had an opportunity to travel to Africa together with their spouses, they couldn't resist the temptation. They left the company in the capable hands of Barb Darland and Jena Mertz and set off on the journey of a lifetime.

After countless small plane flights, safari adventures, surviving an elephant stampede, and many other exciting yet frightening happenings, the Giant leaders returned to Duluth inspired and ready to tackle client and operational challenges alike.
2017 - The Giants Move to Downtown Duluth
After five years of record growth, the Giant Voices team was pushing the limits of our small Canal Park office. Lisa and Pascha explored significant renovations but ultimately decided that a new space would be a better fit for the rapidly-growing company.

They selected a 6,600-square foot space on Superior Street, putting Giant Voices directly in the heart of Duluth's business district.The two-story office, formerly known as the ACE Hardware building, was completely renovated into a modern workspace.

It includes several conference rooms, expanded collaboration areas for staff, areas to showcase work and art, a fitness room and a kitchen. Apter also commissioned a hand-painted mural depicting the iconic Duluth skyline while incorporating a little Giant flare.
2018 - Pascha Recognized by Twin Cities Business
Pascha earned huge industry recognition when she was named one of the TCB 100: People to Know in 2018.

Pascha was recognized as an influencer in the business community and as a strong leader and savvy entrepreneur with more than 20 years of experience in marketing and advertising.

Pascha's fierce passion for helping her clients reach their financial, operational and marketing ambitions inspires creativity and innovation.

We've always known she's incredible, and it was amazing to see her featured so prominently and among such good company.
2019 - Jena Mertz Becomes Partner
Jena Mertz had been an essential part of the Giant team since 2013, bringing experience in sales and marketing to help Giant Clients strengthen brand awareness both internally and externally.

Jena also always had entrepreneurial ambitions, and she was thrilled to make that dream a reality with Giant Voices.

As a partner, Jena focuses on managing growth opportunities for Giant Voices while also overseeing all client relationships and developing strategic marketing plans that drive sales and operational growth for key client engagements.
2020 - Giant Voices' Digital Marketing Team Executes a Complex Lead Scoring Strategy
The Giant Voices digital marketing team manages a database with nearly 100,000 contacts on behalf of a Giant Client.

We've leveraged the organization's CRM investment to deploy a lead nurture framework and scoring methodology designed to identify, rank and grow qualified leads.

As contacts engage and interact with various assets, they earn a higher lead score and move down the funnel from Prospect to Lead to Marketing Qualified Lead to Sales Qualified Lead.

This process gives the client a stronger understanding of each contact and has helped nurture prospects into thousands of viable leads that are passed to the sales team.

Oh and we survived a global pandemic….
2021 - Involta Billboard in Times Square
Seeing our clients succeed is truly why we exist at Giant. We have been an extension of the Involta team since the inception of Giant Voices—and for a majority of the 15 years Involta has been in business.

We've partnered over the years, helping align marketing with sales, as the rapidly-growing managed IT and data center service provider transformed into a national powerhouse.

Our team has helped shape the marketing strategies that grew Involta's footprint from one market to six, and we've helped build narratives for Involta's ever-growing line of hybrid cloud solutions.

When Involta was acquired by the Carlyle Group, a growth-focused global investment firm, the Giant Voices creative team developed the billboard creative that was featured in Times Square during the holiday season.

We couldn't be more proud that our work was featured so prominently at a national level. A Giant win-win, for sure!