Marketers just read that headline and cringed. They're giving us the evil eye through their screens, thinking: What do you mean, MORE? We're already doing EVERYTHING!
Emails

Newsletters

Social media

Blogs

Flyers

Branding

Advertising

Digital marketing

Handouts

Analytics




Tradeshow materials

Business packages

Event Planning

Public Relations

Crisis Communications

Reporting
It's true! Marketing covers a lot of ground and our work is essential to business growth. So how can we sit here and proclaim that marketing should start delivering more?

Because we know they can.

More Strategy
Marketing isn't supposed to be reactive. It should be forward-thinking, smart and strategic. Every effort should drive your business in the direction you want it to go – and when marketing is aligned with your business strategy, there's no telling what you can achieve. Now is the time to include your marketing team in strategic planning, so they can create all-encompassing solutions that help you reach your goals.

More Advocacy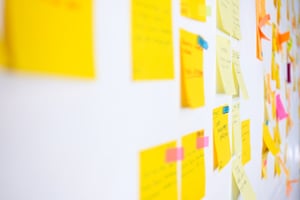 Marketing supports all business functions – and should be your cheerleaders, your yes-people, your sounding board and your advocates. That also means marketing shouldn't be an afterthought. If you want marketing to back you and your ideas, start including the team in strategic-level meetings. You'll be impressed by the ideas and support that come as a result.


More Reliability

You should never have to wait on marketing. They should be the very embodiment of hustle because their work supports sales, customer service, financials, technology and more. You must be able to rely on marketing to deliver, because when they don't, everything suffers. The best way to ensure your marketing team keeps a pep in their step? Set realistic expectations, and then give them the resources they need to succeed.


More Ideas

Marketers get into marketing because they have big ideas on how to drive sales and customer engagement. Marketers are little idea factories just waiting for someone to say "go!" Give your team the space they need to experiment, and they'll blow you away with creative solutions that get results. Every time.


More Solutions

Are you adding a new product or service? Expanding into a new market? Trying to attract a new customer demographic? Growing your internal team? Look to marketing for strategies and solutions to help meet your goals. Marketing will come up with creative ways to solve a problem, and they never shy away from a challenge.


Add a Fractional CMO to Your Marketing Team

This is a lot to ask of a marketing team, we know – especially if your marketing team is a powerhouse of one. The Giant Voices account management team often holds the role of Chief Marketing Officer (CMO) for our clients. We can handle just about everything from setting sales goals, overseeing company branding, creating key messages, developing collateral, managing digital marketing assets, event coordination and more.


We work with you and your marketing team to deliver strategy, value and results that drive your business forward. The best part? Our CMOs come fully-supported by the entire Giant Voices team.