As beloved Minnesota-born singer/songwriter Bob Dylan famously wrote, the times, they are a-changin'—and the way successful businesses run their companies is changing, too.
Between a multi-year global pandemic, increasingly urgent climate change concerns and the snowballing impact of social inequalities, continuing to take a business-as-usual approach is no longer sustainable, responsible or right. Investors, employees and consumers alike are looking toward companies emphasizing ESG—environment, social and governance—at every business level.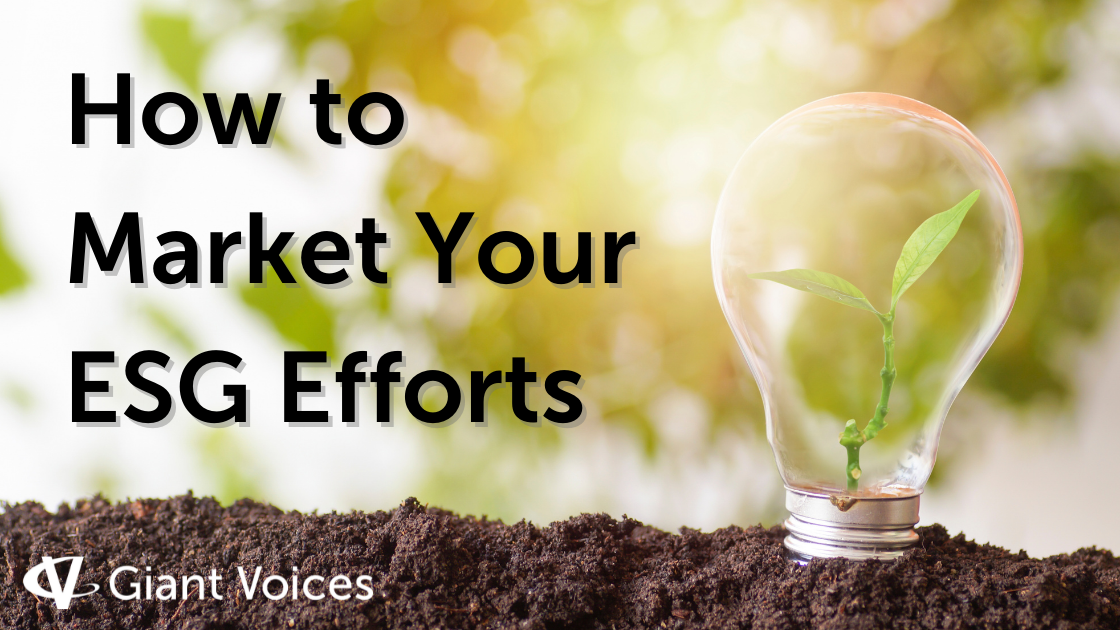 What is ESG?
In years past, companies emphasized corporate social responsibility (CSR)—a qualitative approach to responsible business management. CSR covers a company's overarching social, environmental and economic impacts.
ESG takes things a step further, getting more granular and specific in measurability for environmental, social and governance concerns.
Strictly speaking, ESG criteria are a set of standards for a company's operations that socially conscious investors use to screen potential investments (Investopedia). While ESG was developed in the investment realm, it certainly applies to a broader audience.
ESG-driven companies attract:
Responsible investors who can help drive business growth
Engaged employees who become strong brand ambassadors
Conscious customers who want to support responsible companies whenever possible.
It's a win-win-win, and when these three groups come together to support a business, anything is possible.

How to Implement an ESG Strategy
In our work with Giant Clients over the years, we've found that the most ambitious leaders are already prioritizing ESG elements in their business growth plans.
Although this might be unintentional (meaning, leaders don't always know that they are prioritizing ESG), these practices are frequently undertaken for the benefit of the business as a whole, whether the acronym is top-of-mind or not.
Like any business process, implementing an ESG strategy begins with looking at the business as it sits today, setting benchmarks and defining key performance indicators (KPIs) to report and measure progress. From there, everything builds to more sustainable and inclusive operations.
Environment-focused Key Performance Indicators
For the "environment" section of an ESG strategy, we recommend exploring some of the following KPIs. These won't all apply to every business, but they'll get the wheels turning in the right direction.
Energy management
Energy consumption
Environmental health and safety
Greenhouse Gas (GHG) emissions
Carbon footprint
Product lifecycle/recycling opportunities
Waste management and reduction
Water management and reduction
Giant Voices helps clients establish, benchmark and track environmental KPIs as part of our ESG-focused services. Every scenario is different, so there's no one-size-fits-all strategy here.
Environmental priorities could be anything from minimizing waste and energy consumption in the office or using only recycled paper to wastewater treatment strategies, GHG emissions management or a commitment to decreasing a company's overall carbon footprint.
If you can measure it, we can help you track it and create messaging to promote your great work.
Social-focused Key Performance Indicators
In today's ever-connected world, businesses must be aware of the social climate, and research increasingly shows us that issues like diversity, community involvement and training opportunities factor into employees' decisions on where to work and customer decisions on where to spend their money.
Consider the following social-focused KPIs:
Community engagement
Charitable contributions
Company-sponsored volunteer opportunities
Workplace diversity
Employee training and development
Measuring and sharing social initiatives builds and upholds brands. When a company is committed to giving back, it says so much and it's important to share.
We've helped clients promote fundraising initiatives, earn regional recognition for charitable work and prioritize employee training and development.
Your social footprint is a key component of attracting and retaining employees that fit your brand. It also helps strengthen your company's reputation, making you stand out in the marketplace.
Governance-focused Key Performance Indicators
Sustainable and inclusive governance is the mark of a forward-thinking business. Review the following KPIs, and add them to your strategic plan if they seem to fit.
Company Code of Conduct
Company values
Company culture
Capital expenditures
Responsible supply chain (intentional purchasing, responsible sourcing)
Board and executive leadership diversity
Governance KPIs aren't as cut-and-dry in terms of measurement, but they're critical when planning the future of a business. How and why you do things matters.
At Giant Voices, we frequently help clients hone their company culture into a strategic tool that boosts employee retention, keeps us motivated and energizes our work with every client.
Marketing Your ESG Strategy
Is it enough to incorporate ESG elements into your business operations and strategy? Yes. Is it better to share your ESG efforts with the world? Absolutely.
Start talking about ESG in company meetings. Include applicable elements in corporate communications and job descriptions. Post information and big wins on social media. Recognize individual and collective work to embrace ESG at every level of your business.
Small steps can compound into a big difference and will help set your business apart in an increasingly competitive marketplace.
Questions about how to implement (and market) ESG initiatives in your business? Just reach out. We're here to help.