Giant Voices, Inc. (Giant Voices) is excited to welcome Isabel Olson to the team as a summer 2023 intern! Get to know her in this intern spotlight. Find out more about her education background, degree, favorite hobbies and more.

Hey, my name is Isabel Olson!

I'm so excited to join Giant Voices this summer as an intern. I can't wait to gain a better understanding of how to build a marketing strategy and find creative marketing solutions for clients.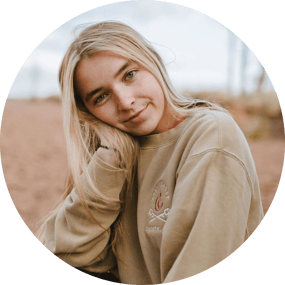 Where are you going to school and when are you graduating?
I'm currently attending the University of Minnesota-Duluth and will graduate in May of 2024.
What is your major?
I'm majoring in Marketing and Graphic Design.
What is your favorite class?
My favorite class was Advertising and Marketing Communications with Dr. Bakpayev.

It was so fun to take control of our client's entire marketing plan and learn about everything that goes into the process. This class was what first got me interested in agency work!
What interests you most about marketing?
I love how marketing allows me to make creative solutions for clients by thinking outside the box and uncovering what differentiates their brand from a competitor.
What is something most people don't know about you?
Something many people don't know about me is that I have 2 Sphynx (hairless) cats back home. People definitely don't expect that when I say we have cats!
What are your hobbies?
In my free time, I love going on hikes, spending time with friends and trying all the great food options in the area.