We don't need to tell you that COVID-19 caused immediate and likely irreversible shifts in the business landscape. When we come through this – and we WILL come through this – business won't look quite the same. While we don't know what the future holds, we do know that strategic marketing is more important now than it has ever been in the past. We also know that many business leaders have had to make significant staffing changes in response to COVID-19's ever-evolving impact on consumer behavior in different industries.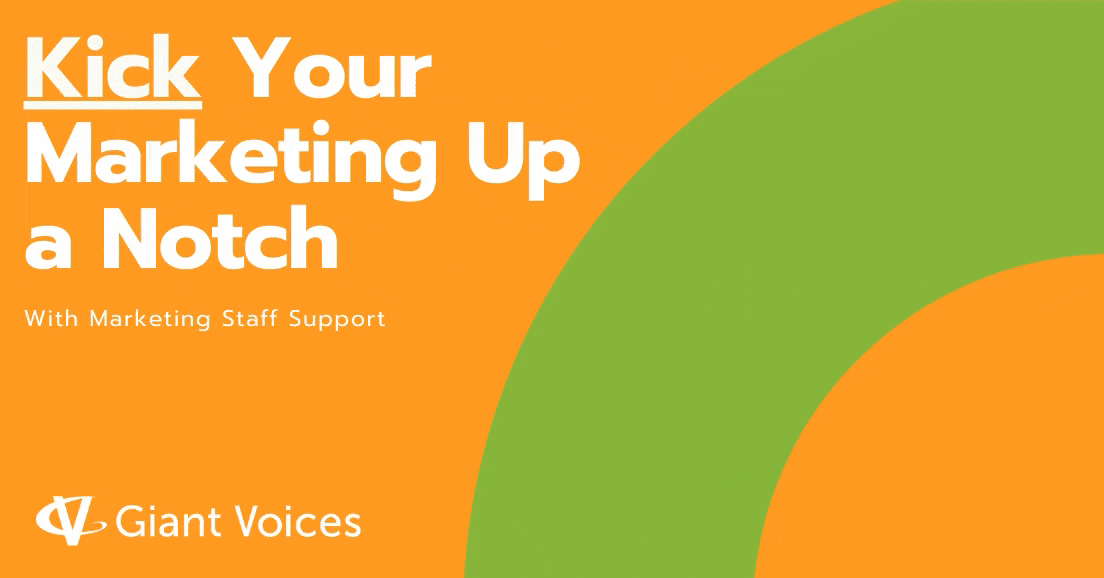 Now is not the time for radio silence. Your customers and prospects need to hear that your company has been able to pivot, that your work endures and that you and your team are here for the long haul. Giant Voices offers many levels of support to help in all of your strategic communication efforts, and can act as a fractional CMO, marketing director or marketing admin. Whether you're looking for administrative assistance on a specific project or more robust oversight for your marketing strategy, the Giants are ready to dive in.


Fractional CMO
It is possible to add an executive to your team without conducting a prolonged search for the perfect candidate – who often comes with a high price tag. As your Chief Marketing Officer, we'll handle just about everything from setting sales goals, overseeing company branding, creating key messages, developing collateral, managing digital marketing assets, event coordination and more. The best part? Our CMOs come backed by the entire Giant Voices team, so you'll get 20+ strategic marketers to support your company's growth.

A long-time Giant Client was faced with a sudden and unavoidable crisis, and they needed to formulate and deploy a strategic communications action plan quickly. Leadership looked to Giant Voices' public relations expertise for both immediate tactics and a forward-thinking strategy that helped the company build momentum to launch new offers. In the midst of this work, Giant Voices helped the client navigate the changing business landscape in response to COVID-19.


Fractional Marketing Director
From internal and external communications to marketing and advertising strategy, a Giant Voices account executive serving as your marketing director can help move your business forward powerfully. We can step in to fill a temporary vacancy, address a specific situation or crisis, or provide long-term marketing oversight and strategy for your team.

Overseeing the marketing of a parent organization of three independently operating programs is more than a full time job, especially when a CMO doesn't have access to an in-house marketing team. Giant Voices dove in as a fractional marketing director to keep projects and initiatives running smoothly. An expert Giant Voices account executive coordinates with contractors, works directly with each program team, engages the Giant creative teams for content creation and graphic design, and ensures each project meets both our and our client's high standards.


Marketing/Sales Admin Support
Successful marketing strategies require drilling into the details. Managing lists, coordinating mailings or email sends, staying on top of customer inquiries or managing social media accounts across several platforms is time consuming but incredibly important work. When our clients need extra hands to get the work done, the Giants roll up our sleeves to keep you in touch with your customers.

When Giant Voices onboarded a new client with a large but unkept database of contacts, we tapped our account assistant's expertise to validate and clean the large volume of data. She embraced the high-touch project with a positive attitude and a strong drive for perfection, so our client could focus on strategic marketing initiatives. Today, this client enjoys a clean and accurate list of valuable, engaged contacts.
How Can We Help?
As our clients make strategic decisions to position their business for continued success during and after the global pandemic, Giant Voices is here to help. Our job is to augment your team wherever you need support the most so we can strengthen your business now and into the future. Get in touch with us to discuss your strategic marketing needs and explore your options.