Is your website meeting performance expectations? If not, it may be time for a website revamp! Take a look at our five powerful reasons why a redeveloped website can amplify your business and help foster long-term success.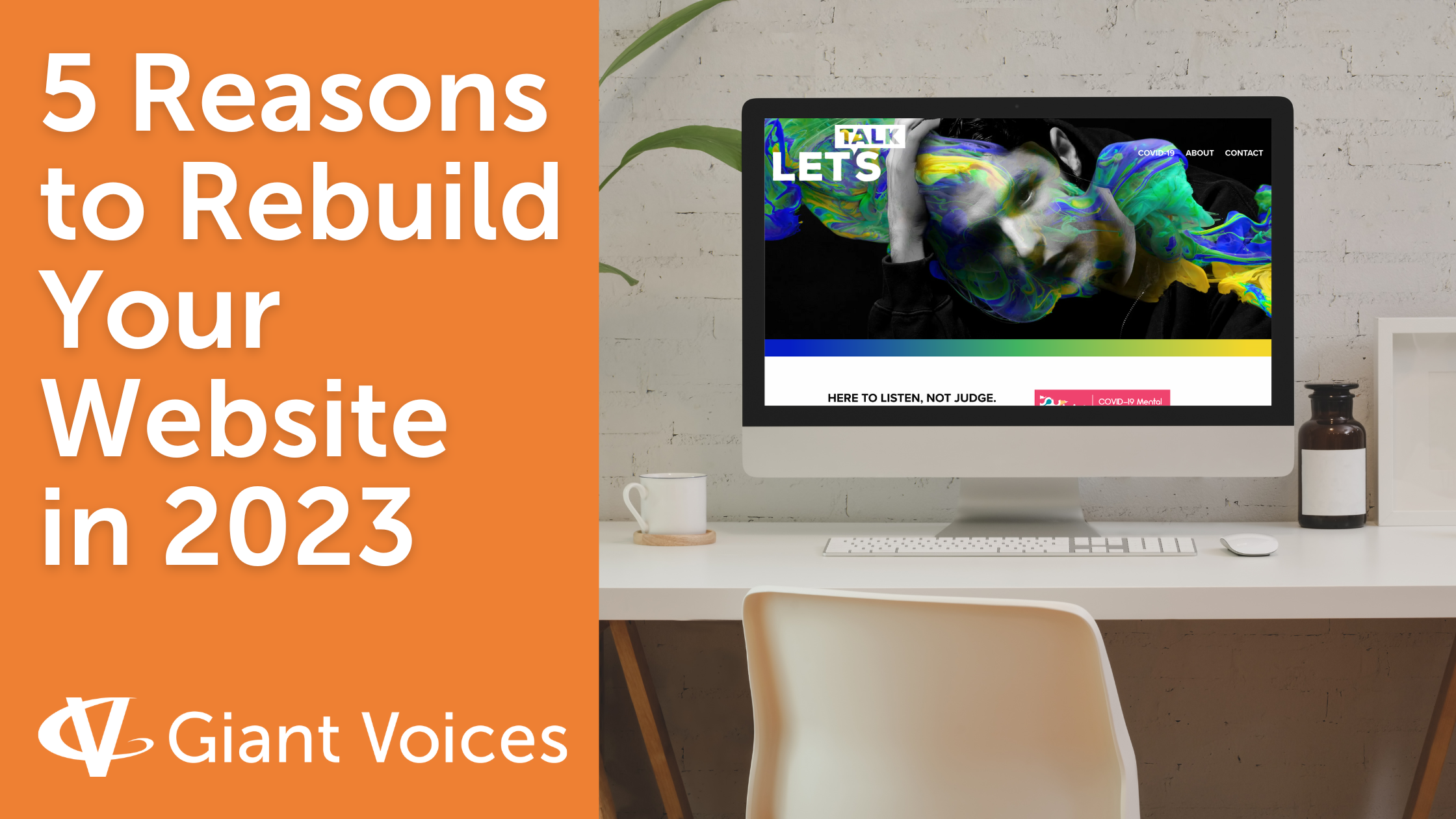 2023 is here! After the chaos of year-end, our Giant team is always excited to embrace the fresh feeling of a brand new year.

It's the right time to set an ambitious course for success and growth, and your website can (and should) be the foundation that supports your strategic marketing and sales efforts throughout the year.

If your website isn't meeting your performance expectations, it's likely time for a revamp. No time like the present to address and resolve challenges. Investing in a new website in 2023 can help increase your company's competitive edge, uphold your brand and support your overarching business growth goals.

As you put your goals for 2023 into action, consider these five compelling reasons to redevelop your website this year.
1. A new website stays competitive on search
Google's search engine algorithm changes frequently—approximately every six months—so the target for performance is constantly moving. Today, Google prioritizes things like high-quality content and page load speeds.

Publishing helpful and reliable content is key. There was a time when content was written for search engines, with loads of keywords stuffed into paragraphs in the hopes it'd rise through the ranks showing first on results pages.

The outcome was awkward-to-read, unhelpful content that didn't inspire users to engage. Google has recently turned the tables and now prioritizes content written by humans for humans. If your web pages contain easily readable content designed to help readers solve problems or access information, your site will likely rank higher.

Search engines also value websites that load quickly. Why? Because people do not want to wait for content. They'll quickly move to a website that provides information faster. Modern web development practices factor in page load speeds across all device types to create a better user experience.

Continuing to use older, unsupported themes, plugins or technologies (like Flash, Page Builder or PHP) will slow down your website and frustrate users. Better to streamline with a complete rebuild. Check out how your website performs on Google's PageSpeed Insights, and consider upgrading in 2023.
2. A new website will be more secure
Cybercriminal activity is rampant. It's become a part of our everyday lives, and it's something that every business owner should factor into their plans and strategies for growth.

If your website runs on an old, unsecured platform or uses unsupported plugins, you're at a much greater risk for a data breach. Don't give hackers easy access to your IT environment through an insecure website.

Instead, invest in adequate security to ensure all the technology supporting your website is always up to date.

Building and hosting a new website on a trusted, leading platform—like WordPress, Shopify, Marketo, HubSpot etc.—is a solid strategy for ensuring your website stays safe, secure and updated at all times.
3. A new website will amplify your brand
Your website is a tool that should function as an extension of your team. It should look, feel and sound like your brand. It should guide users through workflows designed to convert visitors into customers and help your company be a thought leader in the marketplace.

If your company is considering a rebrand in the coming year, a new website should be part of the brand launch. A rebrand is a perfect time to solidify your company personality, voice and values, all of which should come through loudly and clearly on your website.

If you've already developed a strong brand, it is important to make sure your website exemplifies it. Does your website content and imagery accurately speak to your target audiences, using phrases and terminology that are understood by both your team and your customers? Does the look and feel align with your brand standards?

It definitely should! A new website can help take your existing brand to the next level with a modern look, feel and functionality that leaves a great impression on every user.
4. A new website offers a flexible user experience
Today's consumers browse the web on many devices, sometimes simultaneously. HubSpot has some interesting insights into how consumers are using their devices and understanding how your audience browses can help inform your website's design and functionality.

How many times have you pulled up a website on your phone and had to dig out your laptop to complete the task at hand? If users have to zoom in to be able to read or click the exact right spot, they're likely frustrated with the experience and less likely to visit again.

Websites designed today incorporate multiple breaking points, so elements can shift into places that make sense on various screen sizes. When you pull up a site on your phone, tablet or computer, each version will display the content in the most user-friendly way for each device.

This is a fantastic solution to create a seamless experience that upholds your brand and delights your visitors, no matter how they access your website.
5. A new website supports your business growth goals
Q1 is well underway, and any of us are thinking about how to grow our respective businesses in the coming year. Here are a few ways that a strategic partner can tailor your new site to support your sales, market and product goals:
E-commerce functionality. E-commerce features allow users to purchase products quickly and easily from your site.
Updated design and content. Incorporating strategically crafted visuals and content will appeal to specific target demographics and audiences.
Public relations. Launching with a supporting PR push will help increase awareness and buzz for your company's new site.
It all fits together if you do it right.

At Giant Voices, we take the time to intimately understand our clients' business growth goals so that we can support them with every aspect of their new website builds.

We build every site from the ground up, and you won't find us executing cookie-cutter websites. We customize each website to meet our clients' needs and measure our success with analytics aligned to specific KPIs. We're here to help our clients run successful business operations.
Transform your website with us!
If you're ready to transform your web presence in 2023, we're prepared to help your business succeed. For a snapshot of our website work, check out our website portfolio.

Reach out to our office any time to schedule a discovery call so we can better understand your project and goals.