The digital world is evolving quickly, and it is increasingly important to make sure all users have a great experience on your website. With competition growing daily and new technologies constantly emerging, creating an excellent user experience is a smart strategy for increasing website engagement and strengthening your brand.

Does your website meet industry standards? Giant Voices can help in several key areas to ensure your website adheres to best practices while attracting and converting visitors.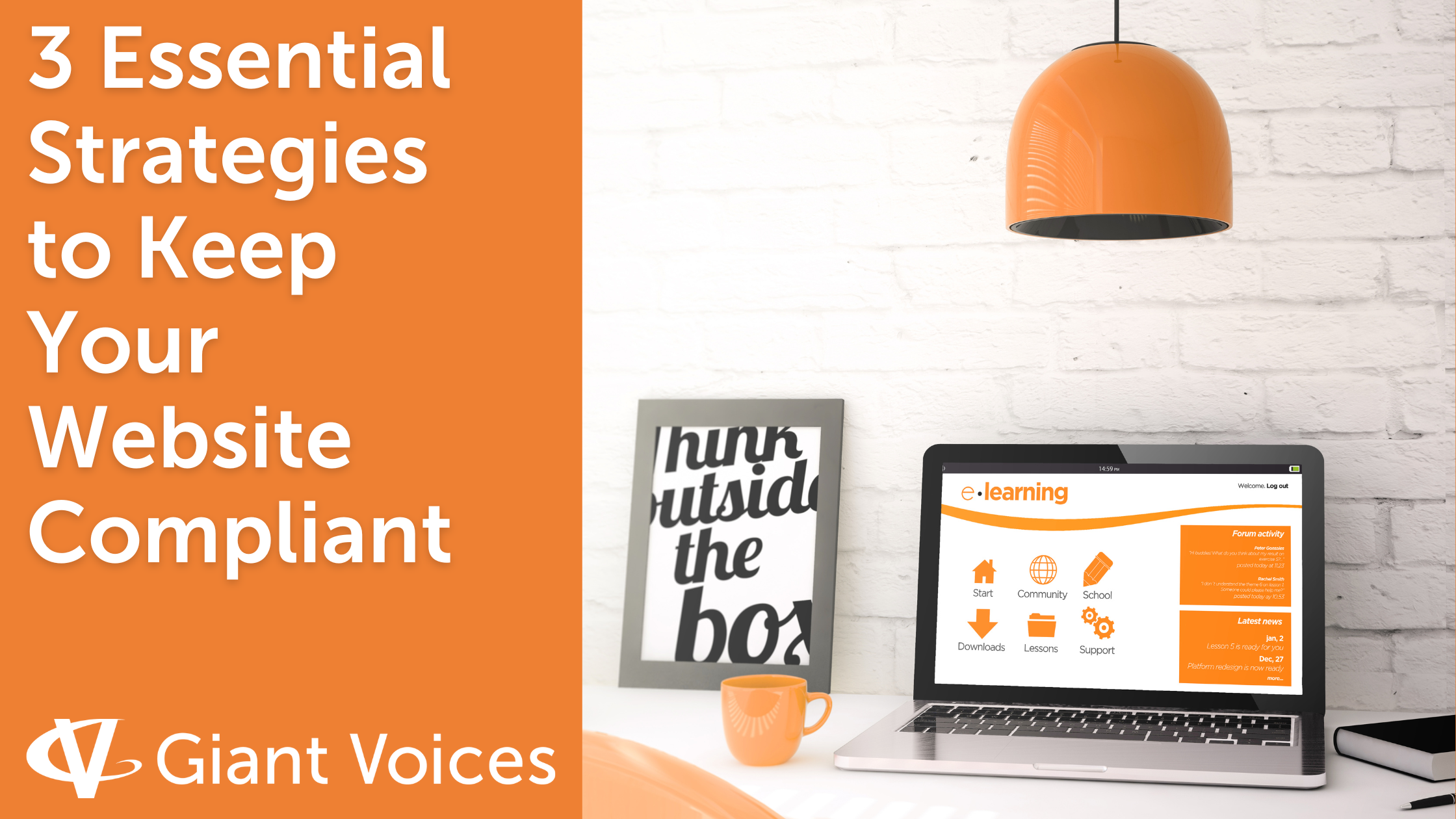 Embrace the Block Flow
WordPress is currently beta testing a new site editor, and it's fantastic. Instead of a complicated backend that is difficult for anyone but a web developer to navigate and use, WordPress has created a streamlined and simple way for users to edit their websites.

WordPress's new site editor has embraced the idea of building web pages with a series of blocks. Much like the small, interlocking bricks we all loved as children, blocks are a straightforward way to arrange different types of content sections on a web page.

This is not a replacement for the Giant Voices web development team–not by a long stretch. We custom-create sets of interchangeable blocks for our clients, taking special care to uphold brand standards and provide a wide variety of block styles.

The best part is that all the blocks fit together beautifully to create a visually appealing, easy-to-navigate page—and once the blocks are designed, clients can add sections and move things around as needed.

For example, if a featured product isn't performing well because it's buried at the bottom of the page, simply use the editor to move the block up to a more prominent position.

The Giant Voices web development team is well-versed in creating block flows, and we're excited to share the many possibilities with our clients.
Prioritize SEO and Google Analytics 4
It should come as no surprise that Google is changing things up with Google Analytics 4 (GA4). The differences between Universal Analytics (UA) and GA4 are pretty significant.

Everything from SEO implementation to data collection and dashboard views will be different. According to Google, GA4 will:
Collect both website and app data to better understand the customer journey
Use events instead of session-based data
Include privacy controls such as cookie-less measurement plus behavioral and conversion modeling
Offer guidance with predictive capabilities
Offer direct integrations to media platforms
It's essential to incorporate GA4 onto your site before it fully rolls out in July 2023. UA will stop collecting data in July 2023, but will be available to access legacy data for approximately 6 months.

However, you can run both simultaneously as you get comfortable with GA4's analytics. The sooner you implement GA4, the better. Without it, you won't be able to pull accurate metrics on your website's performance and user activity.

The Giant Voices web development team can help set everything up correctly, so you're ready to rock next summer. Reach out to our team or browse Google support for more more detailed information.
Accessibility is Everything
Website accessibility is covered under Title II of the Americans with Disabilities Act (ADA), which provides qualified individuals with disabilities equal access to programs, services or activities. Ensuring your website is accessible to everyone elevates your brand and improves searchability and search engine rankings.

That's right: ADA-compliant sites perform better on search engines. Web accessibility is in everyone's best interest.

The Giant Voices team develops websites that incorporate several key accessibility factors, including (but not limited to):
Image Alt Text
Visually impaired users depend on image alt text (short descriptions) to decipher and understand photographs, charts, color-coded information or other graphic elements on a webpage. Making sure all visual elements are accompanied by a short description is critical.


Flexibility with Colors and Fonts
Not everyone sees the world the same way. Many people can navigate websites better if the font and background are highly contrasted or if they can increase the font size or change the style. Ensuring your website can be modified on individual users' machines means that more potential customers can access your content and interact with your brand.


Video Captions
Video has become an essential component of the web, and videos with full captions or descriptions are infinitely more accessible. Whether someone is hearing impaired or simply in a location that isn't conducive to playing audio, captions make all the difference.


Busyness Creates Distractions
Busy, interactive websites can be very fun, but they can also be frustrating to navigate.

Studies estimate that 15-20% of the population is neurodivergent,

which means they process media differently. Flashing, blinking, moving elements or congested web pages can be distracting and can drive prospects away instead of closing a deal. Developing with simplicity in mind creates a better experience for all.
Take your website to the next level by implementing these web development best practices. Reach out to the Giant Voices website development team to get started.