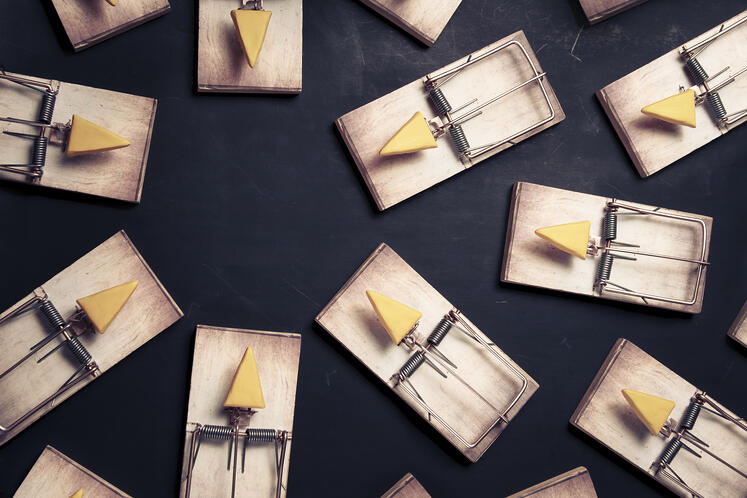 Have you lived through this entrepreneur or nonprofit nightmare?
You identify your target audience, ideal persona, brand voice and creative style.
You identify your strategies for marketing with traditional and new media channels.
You work your tail off to create a marketing plan (you'd be amazed at how many people don't do that) for cause marketing, business expansion, raising revenue, or creating brand awareness.
And then… the plan fails.
The event doesn't fill. Sales are sluggish. Donations are down.

Shudder. You don't ever want to endure that time-wasting exercise and frustration again. So let's talk about some of the traps you may have fallen into when making your marketing plan.

Trap #1:
You didn't set clear, measurable goals
(or you did – but you set them unrealistically high).
Now, don't get us wrong. At Giant Voices we're all about ambition.
Big goals have their own energy. They inspire action, passion, commitment. But there's a fine line between ambition and self-sabotaging overreach.
Let's pretend you are making a plan for your year-end membership drive. Start by looking at the numbers from the past few years – say they're 77, 81, 68 and 75.
If you don't set a target figure at all, you're robbing yourself of the motivation that a good goal brings, AND of the satisfaction that comes from achieving a goal.
If you set your goal unrealistically high – say, 275 when you've never gotten higher than 81 – you are likely to fail. Spectacularly. Which is rough on staff morale, and also kind of makes you look delusional.
In goal setting, as in life, it's all about balance.

Trap #2:
The plan is watered down to appeal to everyone.
"Everyone" is not a target audience. Even if, technically, everyone could use your product, it doesn't mean everyone wants to. (How many middle-aged men buy Barbie dolls?) Instead of trying to craft a general message that will convince the masses to buy your product, zero in on the people who are already buying the kind of thing you're selling. Who will love what you sell? Who will rave about you?

Trap #3:
The plan is scattered.
Print! Radio! Email! Twitter! Vine! Pinterest! Blogging! Growth hacking! (What's growth hacking again? We went to that workshop and everybody's doing it. We'd better do it, too.)
Unless you have a massive staff and budget, don't try to cram ALL THE THINGS into your marketing plan. It's better to use five channels really well than 12 channels halfheartedly.
Our flagship course, Giant Academy, features structured, practical instruction that teaches you how to achieve your next G.I.A.N.T. goal in marketing, advertising, social media and more.