May marked a GIANT milestone for Giant Voices.
Since the day I launched Giant Voices, I've dreamed about moving my team into an expansive new space. Don't get me wrong, our Canal Park space was charming and historical, but also full of challenges. Our team has grown extensively in the past year, and Lisa and I knew our current space was not going to work for much longer.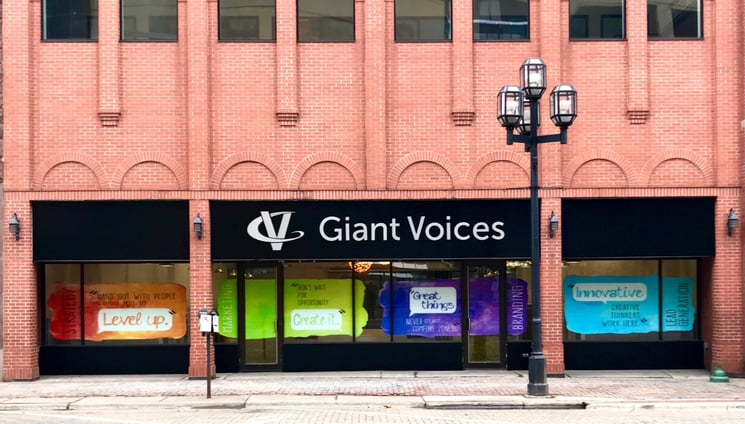 We began the process to remodel the Canal Park space but quickly realized that would only be a temporary fix. We were bursting at the seams! We had designers sharing desk space. We had a single conference room to offer clients. There was no space to expand. No room to grow. Even a beautiful, reworked space wouldn't do the trick.
It was incredibly important to us to stay in the heart of Duluth. Our local roots are strong and we wanted to remain centrally located. We considered multiple local spaces but fell in love with the former Ace Hardware space on Superior Street.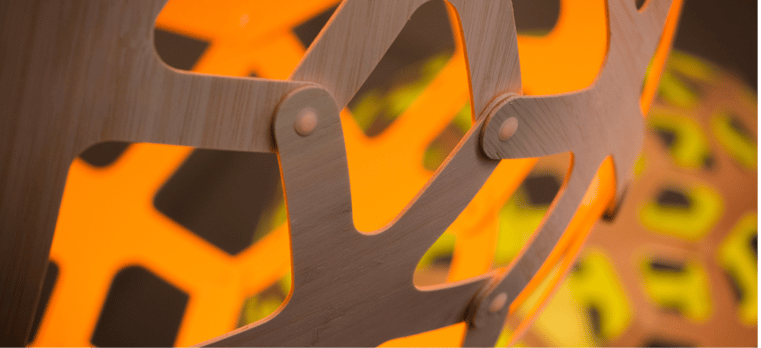 A Space to Grow
Lisa and I are so proud that our vision has come to life. In many ways, it's even better than we expected - and if you know how ambitious we are, that's really saying something. We could not have done this without the expertise of Wagner Zaun Architecture, McGough Construction and many sub-contractors. Their work transformed the 6,600-square-foot space into a beautiful, modern - and dare I say sexy - collaborative workspace.
We already love being downtown Duluth. We love being a part of our city's thriving business district and joining so many fantastic local businesses. It's a different kind of busy and we're fitting right in. We'll miss the proximity to Lake Superior, the Lakewalk and our friends and neighbors in Canal Park, but downtown suits us just fine.
Here are some of my favorite elements of our new office:

Multiple Conference Rooms
We are so excited to host client meetings in our new conference rooms. We can feel the ideas, creativity and strategy bubbling already.


Collaborative Meeting Spaces
Sometimes, casual meeting spaces are necessary to think differently about a project.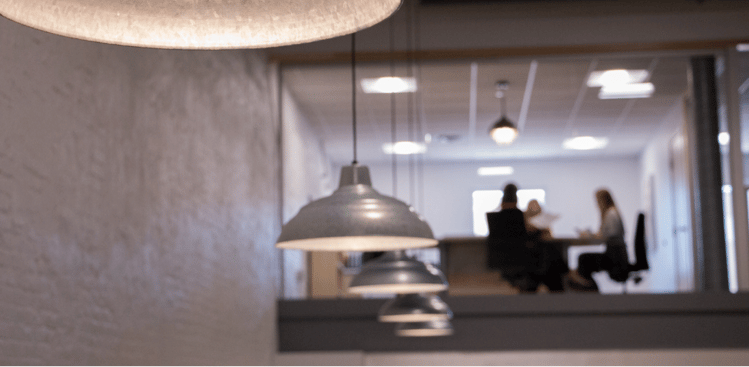 Beautiful, Handmade Wooden Tables by Lars Woodwerks
We can't thank Lars enough for his exquisite, handcrafted works of art. They're beautiful, functional showpieces that make our space truly unique.


Fitness Center
Productivity starts with taking care of yourself - and some of the best ideas pop up during a workout. Our new fitness center will allow our Giants convenient access to solve problems while building strength.


Modern Workspaces for Our Giants
Is there anything better than starting fresh? Our Giants are adding their creative touches to make the spaces their own.


A Fabulous Mural by Local Artist Brian Olson
I'd be remiss if I neglected to share this stunning mural by Brian Olson. Bright colors, Duluth's beautiful skyline, and our powerful core values. I can see it from my office, and it inspires me every day.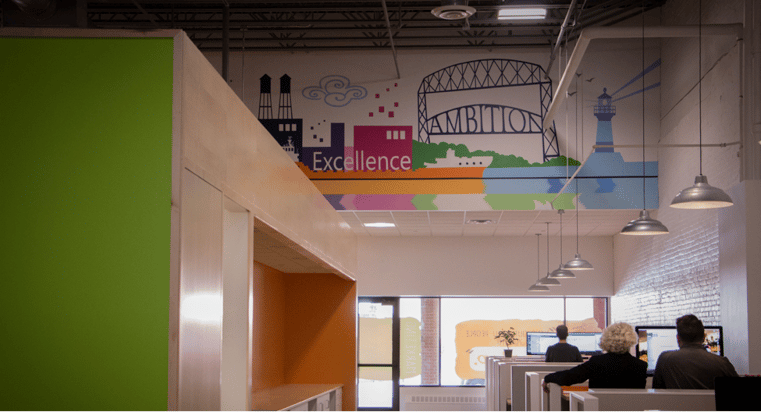 Strengthening Our Services
In this new workspace, we're going to take our work to the next level. It's already started. The Giants are working together better than ever before. We've got the space to spread out, and it's bringing us together.
Giant Voices is a strategic marketing firm. Helping our clients reach their financial and growth ambitions is our main focus. Our unique, strategic approach to marketing services builds market-leading brands, improves customer relationships, increases web traffic and creates strong company cultures.
Our services include:
Strategic Planning
Branding
Advertising
Public Relations
Web Development
Social Media
Lead Generation
Collateral
GIANT Leadership
My business partner, Lisa Bodine, and I leverage over 40 years of leadership in business, sales and advertising with traditional and cutting-edge digital marketing expertise to generate GIANT results.

Get to know Lisa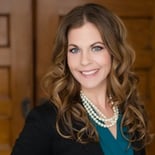 Lisa Bodine is simply amazing. I'm lucky to have her as a business partner and partner in crime. She spearheads business growth and dissects business issues with incisive strategic insight honed by 20 years of experience with Fortune 500 companies, the Minnesota Chamber of Commerce and organizations in the healthcare, information technology, manufacturing and nonprofit sectors.
Her experience spans sales, marketing, operations analysis, business development, board steerage and public and legislative affairs. She harnesses her formidable skills and fierce competitive instincts to solve Giant Clients' sales, logistical, legislative and other challenges on time and on budget while also growing revenue.

A Little About Pascha
I'm fiercely passionate about helping clients reach their financial, operational and marketing ambitions. With more than 20 years of experience, I help clients scale their enterprise to achieve revenue growth through strategic and creative development and execution. I enjoy identifying, assessing and closing financial, education and communication gaps for my clients.
It's my personal quest to stay educated on the latest developments in the marketing industry. I earned a B.A. in Mass Communications from St. Cloud State University and have completed several nationally-acclaimed business courses with the Aji Network and the High Performance Academy. I use this knowledge to strengthen and grow my team and help my clients reach their ambitions.

If you are looking for a partner to help you reach your giant growth goals, you've come to the right place.