COVID-19 has left a gaping impact on business, not just in how we conduct sales and marketing, but the processes behind our sales and marketing efforts.


For the past several months, the old tactics - building relationships through coffee shop conversations or selling a client on data sheets in boardroom discussions - simply aren't cutting it and likely aren't going to be received the same way moving forward.
So, why are so many companies continuing to position their sales and marketing teams like it's 2019?
While our firm will be the first to admit that we miss the energy and growth that comes from in-person conversations with our clients and coworkers, we know and accept that today's B2B landscape has shifted. We get it. It's important to adapt in order to move forward - but that doesn't always make it easy.
As a strategically-focused, ambition-based marketing firm, we work with clients to help identify their financial, operational and communication goals. Then we use that ambition as the foundation for all of our communication efforts. We help maintain alignment across the board on messaging - from collateral to emailers to social media posts to sales rep communications. We work to ensure everything is cohesive when it reaches a prospect.
Knowing this background information, our simple advice might not surprise you when it comes to elevating your brand in today's climate: synchronize your messaging in sales and

marketing.



That means sitting down with both teams to reaffirm that communications are absolutely, 100%, without a doubt, aligned in terms of the messaging you're sharing with your target audience. After all, you can't execute communication that will help you increase ROI, generate leads or put yourself in a position to market new products unless you can build from a strong foundation.
But how do you align your sales and marketing teams? These four steps will get you started.
1. Establish a Team
If you've ever watched synchronized swimming, you'd know it's obvious when someone is off. If a limb flies left when it's supposed to go right, it doesn't take much for a choreographed number to be thrown off course.

It's the same with your marketing and sales communication and the quality of the experience you're providing your prospects. If your marketing team produces content promising one thing and sales sings a different tune, you may miss out on the potential to develop profitable leads - which, to be frank, you can't afford to lose.
We highly recommend that sales and marketing teams meet at least once a month to review what's working, what's not, what new products need nurtured messaging, what new communications need testing, to name a few. These meetings will keep everyone on the same page and reaffirm that the teams work collectively to achieve the same outcome.


2. Put a Plan Together
An integrated marketing/sales strategy built on aligned messaging creates trust, credibility and consistent experiences.
So, where to begin to make sure your team is in sync? We suggest starting with sales enablement, the iterative process of providing your business's sales team with the resources they need to close more deals. It's about producing cross-functional teams that can execute sales success through unified communications. Resources to elevate your sales and marketing alignment include:
- Performance data sheets
- Structured communication plans
- Product information sheets
- Marketing insights from digital and traditional media
- Verbal coaching and sales communication
This is the simple starter kit to ensure your team is on the right track when communicating a consistent narrative and unified mission to your target audience.


3. Utilize a CRM
Our recommendation for maintaining organization when aligning sales and marketing messaging? Invest in an effective CRM - and use it.
A customer relationship management system (CRM) is a centralized location where you can track and manage the journey of your subscribers, prospects, leads and marketing qualified leads (MQLs) based on all of your communications. Using a CRM will help improve communication with your target audience while also allowing your marketing and sales team to centralize their messaging based on the findings of interactions with each unique prospect.
Not only does this create unified messaging across the board, but it also allows your sales team to focus their time and energy on leads with the most potential. It also offers tried and true insights for your marketing team to develop content that will produce effective results. What's more, an effective CRM will allow you to categorize your contacts as they work through the buying stages. That means your messaging - as unified as it is in overall intent - can be effectively tweaked to meet audiences where they are at on their journey.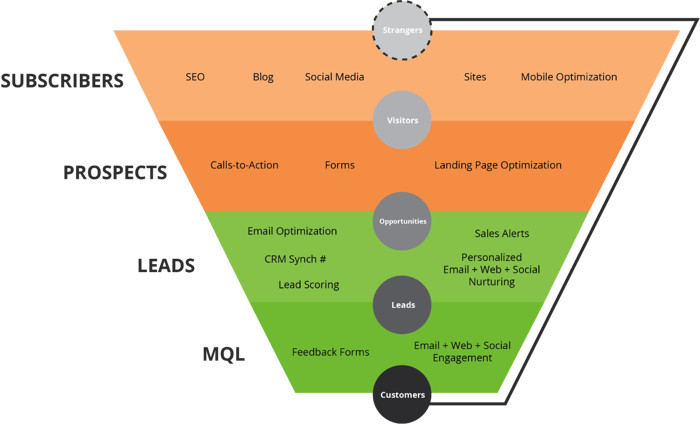 The truth is, with buyer behavior today, your prospects are more likely to convert to customers if they're part of the entire journey, not just the sale. So, a key part of converting a prospect into a lead is ensuring that marketing materials and language are adjusted accordingly - whether a prospect has visited your landing page for the first time or they are ready to close on purchasing your product.
We firmly believe that having and actually using a CRM will help you organize contact data while allowing you to see how people are finding you in today's changing market.


4. Put the Data to Work
Lastly, after you have found the CRM that best fits your interests, use the information it provides to ensure your KPIs (key performance indicators) match up with your ultimate plan to reach people. We recommend monitoring some or all of the following KPIs to measure success.
- CPL (cost per lead)
- CPC (cost per click)
- Average total contract value
- Monthly sales growth
- Revenue per client
- Profit margin
- Client retention rate
Just to name a few. Digging into the data will provide concrete facts on where people enter the conversion funnel and answer the question: what does my buyer's journey look like?

Summary
There are four steps you can take to produce a well-oiled sales and marketing machine:
1. Establish a team
2. Put a plan together
3. Ensure you have a CRM
4. Put some measurements in place
As always, leave yourself room to modify and pivot - if 2020 has taught us anything, it's that our environments are constantly changing, and the needs of our buyers will inevitably change too.


Interested in learning more about sales and marketing alignment? Contact us today for a discovery meeting.