Virtual events. Whether we're active participants, hosting a virtual Vision Sharing™ session, or leading clients through execution, our team understands the benefits of going virtual.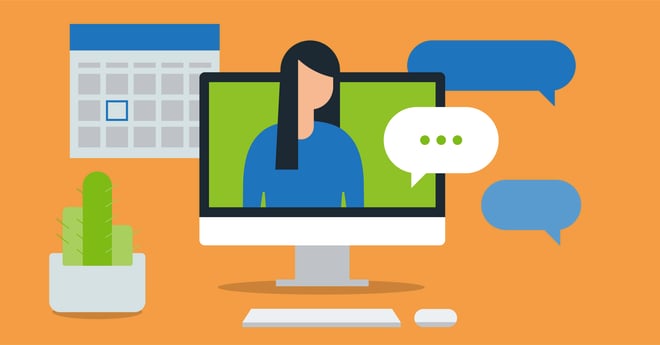 ---
If you're here because you're questioning if you can execute a successful virtual event (you absolutely can!), looking for attendee engagement tips, or simply need advice on how to measure the success of your virtual event, you've come to the right place. We've compiled a breakdown of key pros and cons you need to know.

The Pros of Virtual Events?
From being budget-friendly to making it more accessible for people to attend, there are plenty of advantages of hosting a virtual event. Not to mention, it's a great way to engage with people on a global level while also reaching a larger audience in general - all without the commute or fighting other attendees for the best parking spot.

What's more, you can gain feedback in "real-time," so to speak, by having attendees answer polls or surveys during the event sessions. This makes it easier for presenters to get feedback and provides an early indication of your event's success (more to come on this).

The Cons?
While there may be plenty of perks when deviating to a digital setting - there are plenty of drawbacks. From limited networking and interaction for attendees, to the challenge of keeping people engaged at their computer for an extended period, attendees truly miss out on the human connection of in-person events. After all, who doesn't love meeting other attendees and building new relationships? It's one of the main reasons we all love to attend events.

While it's true your staff and attendees likely save time and budget otherwise spent on travel, registration, itineraries, gifts and other items that come with an in-person event (we all know how long the detail-planning takes) - you may end up spending more money and time on alternative items such as mailing gift boxes, virtual experience components and the like.

We also have to mention the chance for technical difficulties. Poor connections, chat or poll issues, the possibility of user error with audio and/or video, can all leave attendees feeling like the experience was too distracting to gain value.

Fortunately, our team has helped execute countless virtual events (yes, even before 2020), and we're prepared to help you navigate a tight ship for a virtual event that's sure to "wow" your prospects and grow your business.

Where Do You Begin?
While a virtual event may cut time on printing name tags, hosting a successful virtual event doesn't necessarily mean you will save time in the long run. In our experience, successful virtual events can mean more time spent in the planning process than anywhere else.
Go in knowing the planning of a virtual event will likely be more complex than an in-person event. Prep time for virtual events should begin much earlier than planning for an in-person event. What digital medium will you be using? Will it require a registration fee, or have limited attendance? Does your platform connect to a calendar reminder? Do you need a secure login? When do you start creating marketing materials to spread the word? Case in point, there are countless details reaching beyond "when" and "where" for planning a virtual event.


Assemble your team. It takes a village of people working together behind the scenes before, day-of, and following a virtual event to ensure smooth operation. Make a list of everyone who will be involved. Your moderator, a "gatekeeper" or host to check in on waiting rooms to ensure attendees have access, your speakers, your tech team (on stand-by during the event) and marketing department are just a few of the people who should be involved.

We recommend

a group chat

(on a separate platform)

during the event to alleviate any last minute technical or attendee issues that may arise.




Create an outline - or 'Run of Show.' Scratch that. Create

multiple

versions to get and stay organized. List out your speakers and their topics, as well as their time slots. Ensure there is a good flow of content as well as designated stretch breaks or networking times for attendees. Be sure to outline the expectations you have for presentations and communicate to your attendees properly before, during and after each one.


Prepare for shorter talking points and shorter presentations. A virtual audience has a short attention span. Be prepared to break up the virtual event with survey tools at the ready, videos and other engaging features to keep your audience actively involved.


Plan for hiccups. Whether it's technical difficulties or unfamiliarity with the virtual medium of choice, it's important to have a back-up plan. Be sure to have all the attendees' email addresses at the ready if something goes wrong. Or, if you're concerned about attendee etiquette, prepare and share a Best Practices sheet prior to the event.


Practice, practice practice. Ensure you and/or your speakers have a strong flow for the presentation. Practice until you are certain that your inflection and content delivery is interesting and engaging for your audience. Trust us; if your virtual presentation is not seamless or engaging, your audience will notice.
How Do You Make it an "Experience"?
Perhaps one of the most difficult aspects of virtual events is how to make it a valuable experience for participants. That's why it's important to provide them with value every step of the way.
Ensure the content is valuable. Your attendees have chosen to attend your virtual event for a reason - now ensure you provide worthwhile content. What new skills can they learn? What experiences will they hear presenters talk about? What additional eBook, video, template or network connection will you provide them as a take away? Will you provide gift cards or a DoorDash lunch as incentive to make them feel more present? There are countless opportunities to provide value before, during and after your virtual event. Start brainstorming with your team to find exactly what your audience is hoping to gain.


Smaller chat rooms. Consider your breakout rooms during the event. Could they be smaller to give participants the opportunity to discuss key concepts from the presentations with other attendees? Again, it goes back to planning from the beginning exactly what makes your event unique and how you can ensure value. (Side note, if you're not sure how to create breakout rooms for virtual events, we can help!)


It's all about the follow-up. Why do people love networking events? To network! Pick a few memorable moments from the presentations, maybe an insightful participant question or a book mentioned by a presenter. You can then follow-up with attendees via email to provide them more details and additional information and value.
How Do You Measure Success?
While you can gain valuable insights during your virtual event with polls, breakout sessions and other interactive activities, we also recommend follow-up surveys to see what attendees liked, what they didn't and what areas you can improve on. (Side note, we don't necessarily recommend a follow-up survey every time, especially if you had multiple polls set up during your presentation).

A sales contact doesn't always happen right away. We typically measure the success of virtual events for 6-12 months following, to see if there has been any attendees interaction. What's more, if the first event went well, chances are future virtual events will garner higher attendance rates. Establish early what your goals are, and how you know you've achieved them. Did you want 120 new leads and secured them? Great! Did you close 12 new sales meetings in the last 3 months from attendees? Perfect! Go in with strong performance indicators to benchmark your success.

Summary
By planning ahead, assembling your team, understanding your digital medium, providing your attendees with value and having a plan to measure success, you're well on your way to creating a successful virtual event that will secure prospects and support your business efforts.

Need help creating a virtual event? At Giant Voices, our experienced team can help you swiftly and effectively navigate hosting a virtual webinar, panel discussion or presentation for your business. Connect with us today to learn more.