What if you could bring on an expert to help fill in critical leadership and skills gaps but at a fraction of the cost of hiring FTEs? This is exactly what a fractional CMO or marketing leader does, and here's how adding one to your team can transform your business.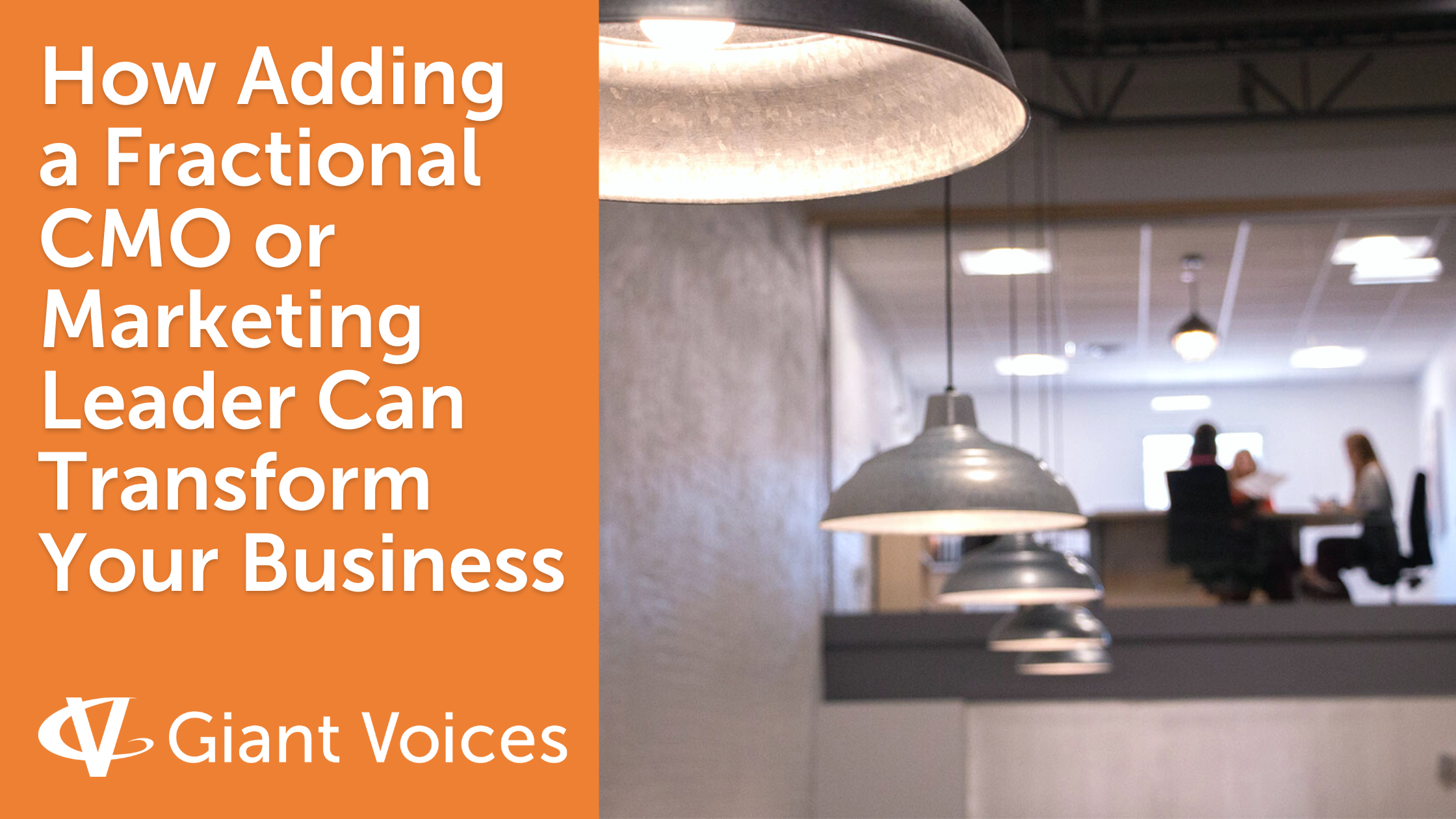 Marketing has always been a fast-paced industry, and the momentum continues to build faster than marketing teams can hire the support they need.

It takes time to interview, hire and train new FTEs who may or may not have the skills required to develop and execute effective marketing strategies. It may take several FTEs to fill the necessary gaps, and that overhead adds up quickly.

Yes, you can fine-tune your recruitment strategies to attract qualified candidates, and it's essential to focus on retaining the talent you already have on board, but neither of these will guarantee your marketing team has the full breadth of expertise needed to deliver qualified leads to your sales team.

Staying at the forefront of changes in the marketing field is often more than one marketing professional or small internal marketing team can handle—nobody should be doing this alone.

Just because marketing takes a specialized team, however, doesn't mean all of those experts need to be on your payroll.

Hiring a fractional CMO, fractional marketing director or fractional marketing sales and alignment expert can provide your business with the power of a full-service marketing department—for a fraction of the cost.
Giant Fractional Marketing Services
Giant Voices offers fractional marketing support to augment your existing internal marketing person or team. This type of investment gives your company the power to leverage the expertise of a full-service marketing agency for a fraction of the cost of hiring FTEs, and it amplifies your existing teams' capabilities.

Instead of hiring for specific skills, you'll gain access to an entire strategic marketing team with experts in marketing strategy, digital marketing, web development, SEO, content creation, social media, graphic design, and more.

We become an integrated part of your organization, delivering what is specifically needed in terms of strategy or tactical assistance. If your team has gaps in certain areas, fractional marketing support could be the key that unlocks unlimited potential.

If you could use help in any of the areas listed below, a fractional service agreement may be worth exploring:


Creative asset development for advertising campaigns and sales collateral
Content creation for blogs, case studies, white papers, newsletters, emailers, etc.
Sales strategy and lead generation
Graphic design
Analytics and reporting
Event planning and management
Crisis communications support
Media buying and optimization
What level of fractional marketing support is right for you?
Marketing support services can augment your team at any level—from C-suite to (virtual) front desk. Check out the following options and consider your needs.
Fractional Chief Marketing Officer
A fractional CMO sets the strategy for marketing and sales teams, manages your organization's brand identity, and builds strong relationships with internal and external partners. It's executive-level strategy and oversight, backed by a skilled team of marketing professionals.
Fractional Marketing Director
From internal and external communications to marketing and advertising strategy development, a fractional marketing director will help move your business forward powerfully, ensuring all marketing projects are completed and optimized.
Marketing/Sales Administrative Support
Fractional marketing sales and administrative support adds capable hands to your team. They'll keep you in touch with customers through list management, mailings, email sends, customer inquiries, event management and more.
Case study: Giant fractional CMO services fill critical leadership and skills gaps
Involta is an award-winning hybrid IT and cloud-forward consulting firm orchestrating digital transformation for the nation's leading enterprises. Involta's ongoing mission has been rooted in partnership for nearly 20 years.

The Giant Voices team has been Involta's strategic marketing partner for over a decade, helping grow the company's footprint from one market to six and providing marketing insight every step of the way.

As Involta grew, the company needed a higher level of strategic marketing insight and leadership. Giant Voices fills the role of Chief Marketing Officer to help Involta fill a critical leadership gap.

The Giants backup Involta's internal marketing team, provide support to build Involta's brand, strengthen lead generation and digital advertising efforts, oversee the company's website and manage public relations.

This tremendous amount of work wouldn't be possible without combining the Involta and Giant Voices teams. It's a collaborative effort every step of the way, and the results have been mutually beneficial. Deep integration leads to deep knowledge and a high level of trust. We're one team.
"With Lisa Bodine leading Involta's marketing efforts, we've expanded our data center footprint, honed our IT security offering, elevated the Involta brand and positioned the company for acquisition by Carlyle. She and her team have been invaluable."

—Jim Buie, Involta CEO
Ready to engage a Giant fractional marketing expert?
Reach out to our team at any time to discuss how we can augment your team.