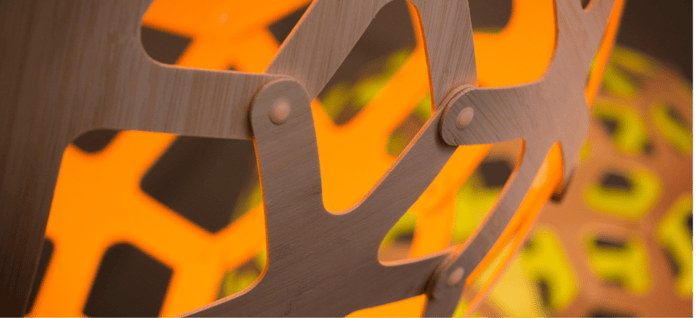 Without a doubt, there's plenty of conversation surrounding the buzzword lead generation, or "lead gen" as we refer to it at Giant Voices. With endless amounts of complex information to consume, a quick Google search can have anyone feeling overwhelmed.

We promise not to trip you up. Allow us to break down the basics.


What is a LEAD?
Anyone who has shown interest in your company.
What is LEAD GENERATION MARKETING?
A marketing process geared toward specific and strategic target audiences that includes content responding to their unique concerns.

While many marketers might try to overcomplicate lead generation marketing, don't lose sight of the foundational process: a progression of focused, educational information targeting defined groups of people your business can help. The goal is to add value and build trust - then ask for feedback to better evolve.
The Funnel
When we talk about lead generation strategy with clients, we often draw a marketing funnel illustrating the process. While every business and their target audiences are unique, the foundation of the marketing funnel is the same. There is a finite way prospective customers will find your business or website. Depending on what stage of the buyer's journey your targets are currently in, there are different educational resources, tools and content made available to inform them.
Putting this marketing funnel into practice requires dedicated effort and strategic thinking - which makes understanding your target audiences critical.
Here are a few questions to ask about your target audiences:
What are the target audiences you are trying to reach?

What are their demographics and psychographics?

How and where do they consume media?

What are their key concerns?

How can your offers help solve their problem?
This marketing funnel below - which will eventually bring users to the sales funnel - illustrates where the handoff from marketing to sales takes place. Keep this in mind as we break down what you need to know about the lead generation process.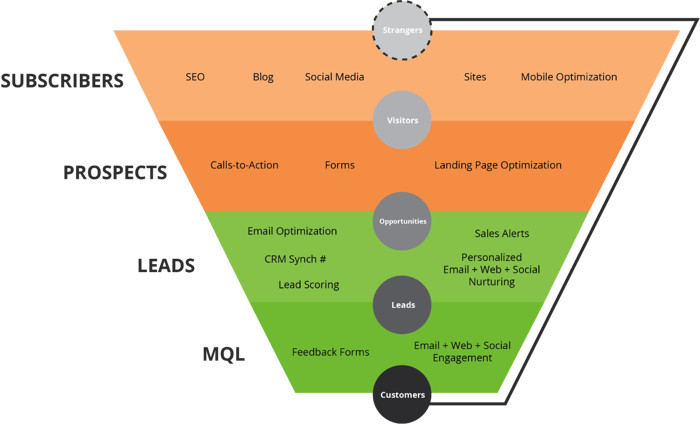 **Note: While this blog doesn't dive deeply into KPIs (key performance indicators), we want to touch on how essential it is to ensure your KPIs align with your overall strategy to reach your target audiences. Whether you're evaluating CPL (cost per lead), CPC (cost per click), monthly sales revenues, client retention rate, webinar registrations, etc. Using an effective CRM and marketing automation platform to assess your data and effectiveness will provide concrete facts on where people are entering (or exiting) your marketing funnel. These facts help to inform future strategic decisions and further develop the most accurate buyer's journey.**


Sample Lead Generation Process
Let's look at the lead generation process from the perspective of a fictional company that offers health and wellness services in the form of an app. We'll call it WellApp.

WellApp has been active on social media, has optimized their website for SEO, built multiple strong email campaigns, and has now increased user traffic to their website landing page where people can download their app.

In a perfect marketing world, the new users (strangers and visitors) arriving at this landing page will download the app and become a lead.

Here's a sample progression of the WellApp lead generation process:
Strangers and Visitors: Never heard of WellApp before, came to the site via a paid digital ad, trade show interest, word of mouth, etc.


Leads and Opportunities: Are subscribers to WellApp and live in the email database, receive regular emails and educational information to nurture their interest in WellApp.


Marketing Qualified Lead (MQL): Subscribers who have taken a series of actions to show increased interest in WellApp. For example, attended a lunch and learn presentation, downloaded a number of educational pieces from the website, opened and clicked received emails.


Sales Qualified Lead (SQL): These are MQLs that have been passed to the sales team to further nurture or close a sale.


Growing Your Lead Generation Marketing Strategy
As you put time, effort and information into your sales and marketing alignment efforts, you will begin to see patterns in the metrics. These patterns allow you to make informed and strategic adjustments to increase the effectiveness of your efforts for your desired target audiences. Which, in turn, helps your business reach its goals and overall ambitions.

**Note: Stay tuned for a future blog outlining the effectiveness of a strong content strategy and how it aligns with lead generation.**

Lead generation 101 is knowing your target audiences and understanding the value your offers can bring to them. Every company might have a different lead generation strategy, but the foundational items remain the same. Try starting with the target audience questions above, paired with a simple marketing funnel and see if your strategies and tactics align with the various stages of the basic buyer's journey.


If you want to explore establishing, growing or enhancing your lead generation efforts, our experienced team is always ready to help. We can help align your sales and marketing teams and turn prospects into qualified leads. Connect with us today to learn more.