If email marketing is a part of your marketing strategy (hint: it should be!), here is how the right template, copy and call-to-actions can up your email game and help you meet your business goals.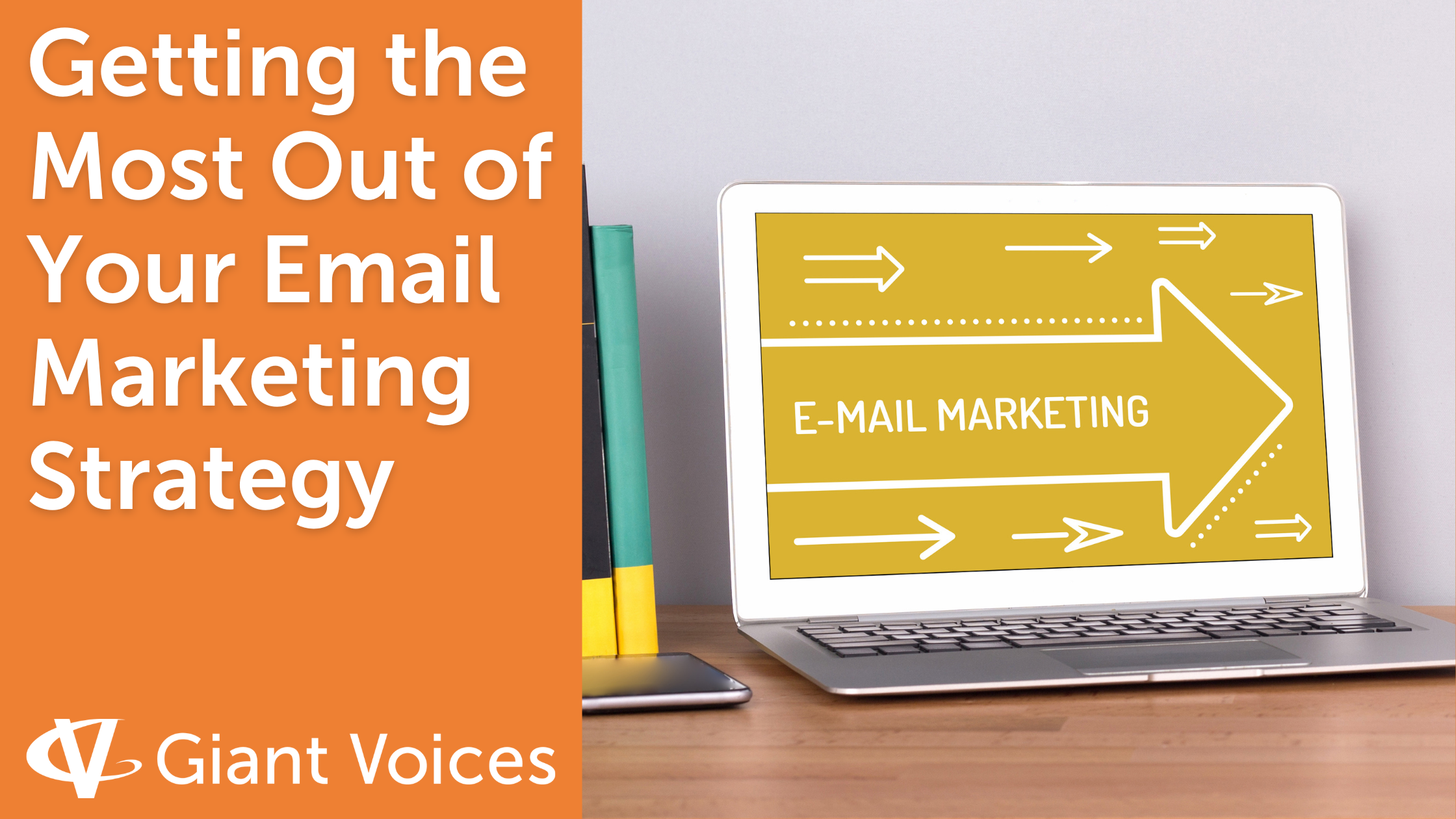 In an ever-evolving digital world, sending the right emails can improve your marketing campaigns in a Giant way. In fact, it's one of the most efficient ways to move prospects through the marketing funnel and provides an impressive ROI of $36 for each dollar spent.

For some, creating the right template for copy and knowing how to use and place a CTA (Call To Action) button effectively, can feel daunting. We tapped the minds of our digital strategists here at Giant Voices for a few tips to help you get the most out of each email you send.
Importance of Segmentation
When creating a plan of action for your email strategy, it's important to first consider the audiences you're trying to engage.

Even the most beautifully designed, thoughtfully written email could end up in the trash folder if you're not providing the right value to the right person.

Before drafting your templates and copy, make sure you ask yourself the following questions:
Who are my target audiences and how do they differ?
Where is each audience in the buyer's journey and what content will be most relevant to them?
What action do I want them to take and how will my email inspire them to take it?
Not every email you send will be applicable to your whole contact list. By using a contact database and segmenting your contacts, you can deliver the right message to the right people at the right time in their buyer's journey.

Don't only take our word for it, though. Mailchimp found that segmented email campaigns provide 14.31% higher open rates and 9.37% lower unsubscribe rates than unsegmented campaigns.

Strategies for segmentation and grouping prospects together are endless, and it can be difficult to maintain clean and accurate lists without outside help from CRM software. A good CRM should provide valuable insight and tools to help marketers visualize their prospects' positions in the sales funnel, track customer interactions and manage prospect timelines.

Many CRMs use smart lists, which automatically remove or add contacts when they begin or cease to meet list criteria. This makes it easy to tailor the resources and emails being sent to each prospect, ensuring they get information that will advance their position in the sales funnel.

With a CRM that automatically analyzes your prospects' journeys, you can stop manually updating lists and avoid sending the wrong information to the wrong person.
Laying the Groundwork
Creating templates that align with your branding across other platforms sets a strong foundation on which to build your email copy and design. Maintaining a consistent voice and appearance makes it easy to shift conversations between platforms.

Keep in mind that not all emails you send will have the same end goal or apply to the same audience. To ensure you're getting the most out of your templates, consider your segmented contact lists, which content they find most relevant and the specific types of emails your company will send.

The same template that works for product and service promotions likely won't work for sharing company newsletters or blog posts, and they likely won't be delivered to the same prospects.

Having a cache of ready-to-use templates that align with your brand standards will provide your prospects with a uniform experience across all of your communication channels. This will foster productive conversations that can be easily moved to different platforms when needed.
Planning Your Copy and Design
Each piece of your email should drive prospects toward one specific goal, and they should be able to skim the copy for important information easily.

By writing strategically, you can funnel readers down your written content to take the desired action that will fuel your goal.


1. Grab Their Attention
The average person receives 100-200 emails per day. And that's not even including spam!

When inboxes fill up that quickly, it's important to make your emails stand out with a personal, relevant subject line, enticing preview text and a sender email account that feels human.

Subject lines should be concise and provide context about what the reader can expect from your email. Keep word count and device compatibility in mind—mobile device screens can only fit about 45 characters, and prospects are less likely to click in if they can't see the relevance.

If you're finding it difficult to cut down your subject line, think about what pieces could be displayed in your preview text instead.

Preview text appears next to or underneath the subject line in your inbox and is an excellent opportunity to grab readers' attention. Most email clients will self-populate this text directly from the body of your email, but we encourage marketers to customize and share valuable information that inspires prospects to open the email.


2. Keep Their Interest
To keep reader's moving down the funnel, they should be able to immediately identify why they were sent the email and how it will benefit them.

This is where segmented contact lists come into play—by tracking the contacts' position in the buyer's journey, you can build and send relevant content that drives action.

This is a great place to plug in your brand's story, details about your services or how you can be the solution for a key problem. This section will look different at each step of the buyer's journey, so it's essential to keep content relevant.


Inspire them to Take Action
Once you've piqued the reader's interest, you can motivate them to take action. They like what they've read so far, but now is the time to make them want it. This is a great place to include special offers or customer testimonials to inspire that last push toward your desired action.

Every email you send should provide readers with a clear next step: a call-to-action (CTA). At this point in the email, prospects know what you're offering and they've decided they want it.

By providing them with clear direction, they can finally take advantage of the value you've provided.

We recommend using only one clear CTA that directly links the page or product you're promoting. You can still provide relevant links in the email copy, but they shouldn't compete with the primary CTA.

Use a bold color, and keep competing imagery to a minimum, so readers can skim the copy to find their next step.

Your CTA copy should provide a clear, concise direction, but this doesn't mean you have to use "Buy Now" or "Learn More" every time. Have some fun with your brand's voice to find different ways to inspire action, but be sure to measure how they're performing with your audience.
Hit Send!
You made it! Now that you've perfected your email process, you can be a bright spot in your audience's inbox. Before the official send, test your email to a small internal team who can check for image loading, layout and mobile compatibility.

The email marketing world is only growing from here, and the fight to be the 1% of emails that prospects click into will only get more competitive.

Regularly tracking email performance will provide insight into what is or isn't working, so you can adjust accordingly. Trends and interests change fast, so parts of your strategy will need to adapt and evolve.

Giant Voices helps clients perfect their digital marketing strategies through email marketing, lead generation, content marketing and strategic website development. Don't let an outdated email strategy drag your company down – get in touch and let us help you make the most out of your marketing!